Think over before you make over
Every year thousands of people in the UK put themselves at serious risk by undergoing bad or inappropriate surgery that could be easily avoided by asking some simple questions about their treatment.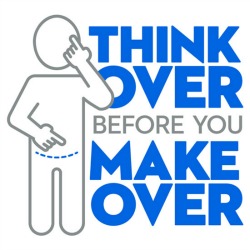 Poor surgery can have both physical and psychological consequences, so it is vital to make an informed choice and choose the right surgeon for the job. This guide provides the key advice to consider before making a decision, so that if you are choosing surgery, you are choosing safely.
If you are considering cosmetic surgery Following our 5 Cs for cosmetic surgery will help you decide if cosmetic surgery is the right choice for you.  read more > or go to the "Think Over Before You Make Over" website.
Most recent posts
Monthly Archive